You need to take screenshots while doing your regular work. There is plenty of software/tools supported in Linux to take screenshots. Not only taking screenshots, but you may also be required to edit, add some text, change color, highlight them. In this article, I am going to describe some popular open-source free screenshot software for Ubuntu (Debian based Linux).
1. Default Gnome Screenshot
Every desktop environment, Linux system comes with a default screen capture tool. It allows you to take screenshots of the whole screen, a current window that is active, and an area you select on the screen. Furthermore, you can grab after a delay of some second.
To launch the default Gnome screenshot tool, go to the launch menu and search screenshot.
Just click on 'Take screenshot' to capture the screen.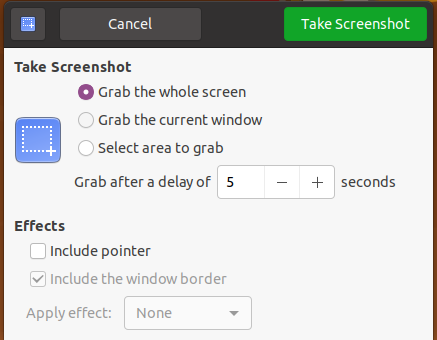 After you capture the screenshot you can save it in a directory.
2. Flameshot
Flameshot is an annotations-rich screenshot tool that is available as a free and open-source tool. When you capture a screen using flameshot, you immediately can edit images with lines, freehand drawing, circles, boxes, blur, text etc. You can save the capture locally or directly to Image also.
To install flameshot in Ubuntu or in Debain, you can just type the following command,
$ sudo apt install flameshot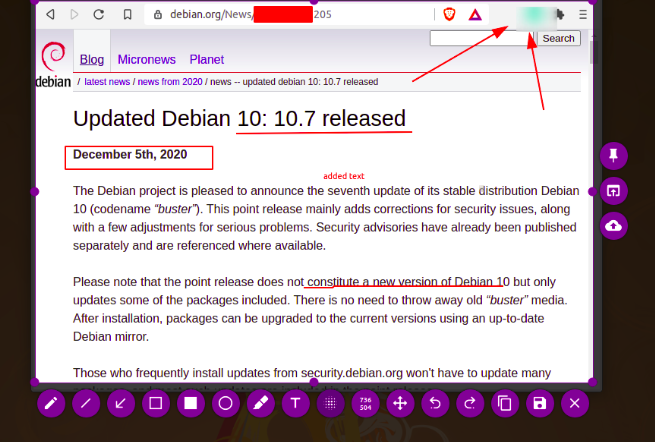 3. Ksnip
Ksnip is cross-platform supported in X11, GNOME, Plasma Linux desktop environment as well as in windows and macOS. it also provides many annotation features for your screenshots. You can take a screenshot of the full-screen, rectangular area, windows under the mouse cursor, and screenshot with or without the mouse cursor. You can use a pen, marker, rectangles, stickers, and many other tools to annotate the screenshots. It also has a feature to add watermark to captured images.
You can install Ksnip from the snap package on Ubuntu / Debian. So, install snapd package using the following command.
$ sudo apt install snapd
Now, simply install with the following command,
$ sudo snap install ksnip
Go to launch menu and search for ksnip, you can open from there.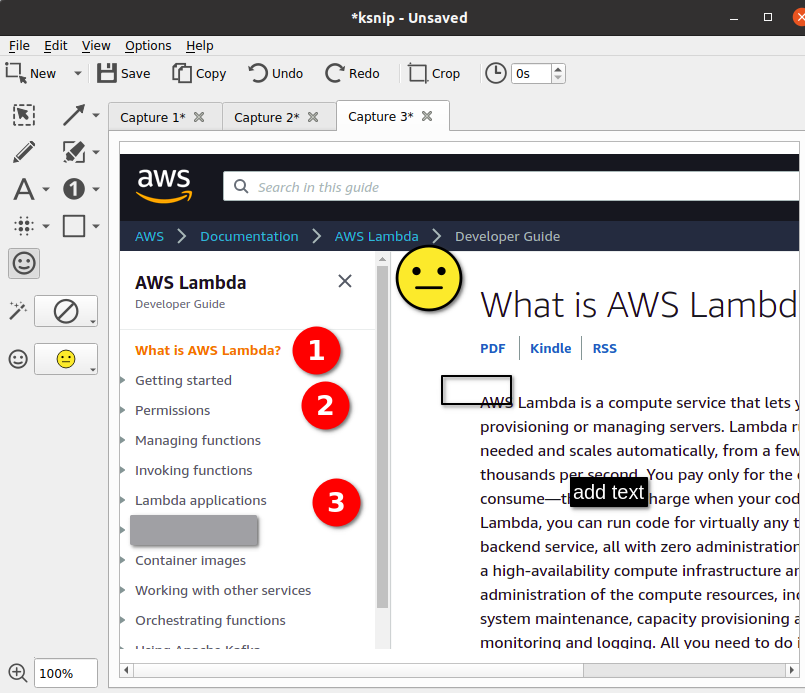 4. Kazam
Kazam is the go-to screenshots and video capture tool supported on Ubuntu.  It provides an easy interface that helps you to capture screenshots of full screen, windows, or an area you select. You can use the option delay before capturing the screen image. It can record video with some features like pausing, resuming. If you are looking for a tool that helps you to both take screenshots and video in an easy interface, Kazam is the best.
To install Kazam on Ubuntu / Debian, enter the following command in your terminal.
$ sudo apt install Kazam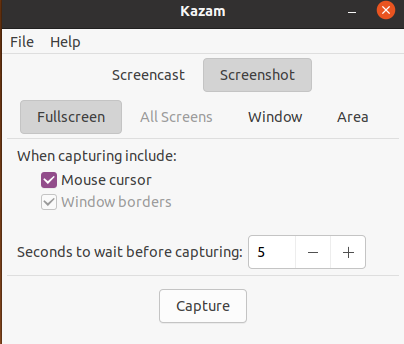 That's all from this article, above is the lists of best free screenshot tools available for Ubuntu / Debian. Please do share your experience with the screenshot tools that you are using. Thank you.
Read Also : How to Edit PDF Files in Linux Desktop