In post, we will cover how to install minikube on Fedora 36 step by step.
Minikube is a single node local Kubernetes (k8s) cluster. If anyone is new to Kubernetes and wants to learn and explore Kubernetes, then minikube is the solution.
Minimum System Requirements for Minikube
Minimal installed Fedora.
Sudo User with admin rights
2 CPUs or more
2GB RAM or more
20GB of free disk space
Internet connection
Without further ado, let's jump into minikube installation steps.
Step 1) Install Docker
Login to the system and open the terminal, run following commands to install docker
$ sudo dnf -y install dnf-plugins-core
$ sudo dnf config-manager --add-repo https://download.docker.com/linux/fedora/docker-ce.repo
$ sudo dnf install docker-ce docker-ce-cli containerd.io docker-compose-plugin -y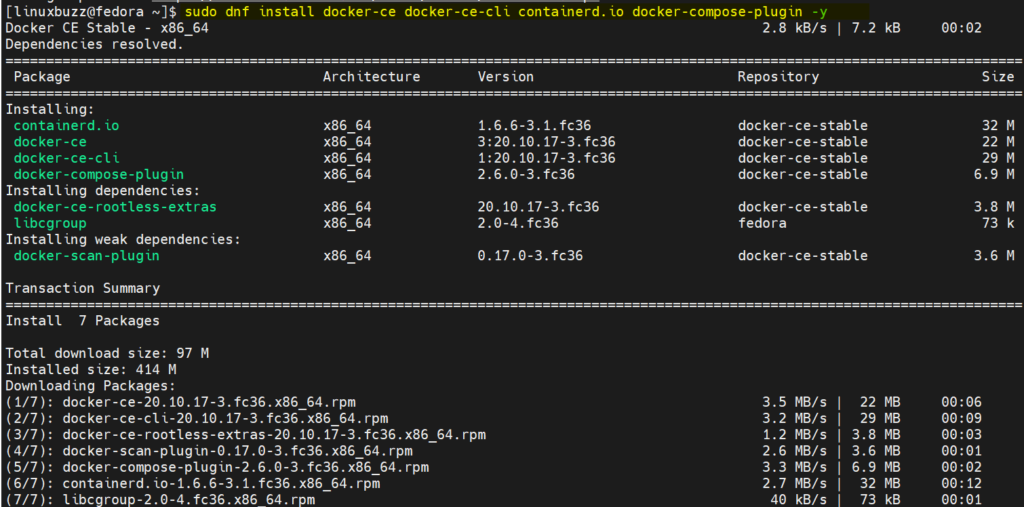 Start and enable docker service, run
$ sudo systemctl enable docker --now
Verify docker version, run beneath command
$ docker --version
Docker version 20.10.17, build 100c701
$
Allow local user to run docker commands without sudo
$ sudo usermod -aG docker $USER
$ sudo newgrp docker
Step 2) Install Latest and Stable minikube Binary
Run following commands to install latest and stable minikube binary
$ curl -LO https://storage.googleapis.com/minikube/releases/latest/minikube-linux-amd64
$ sudo install minikube-linux-amd64 /usr/local/bin/minikube
Verify the minikube version
$ minikube version
minikube version: v1.26.0
commit: f4b412861bb746be73053c9f6d2895f12cf78565
$
Step 3) Install Kubectl Utility
To interact with Kubernetes cluster, we need to install kubectl utility, run following curl command,
$ curl -LO https://storage.googleapis.com/kubernetes-release/release/`curl -s https://storage.googleapis.com/kubernetes-release/release/stable.txt`/bin/linux/amd64/kubectl
Set the permissions on kubectl binary,
$ chmod +x kubectl
Move the binary to '/usr/local/bin'
$  sudo mv kubectl /usr/local/bin/
View kubectl version,
$ kubectl version --short
Output,

Step 4) Start Minikube Cluster
Start minikube along with docker driver, run
$ minikube start --driver=docker
Output,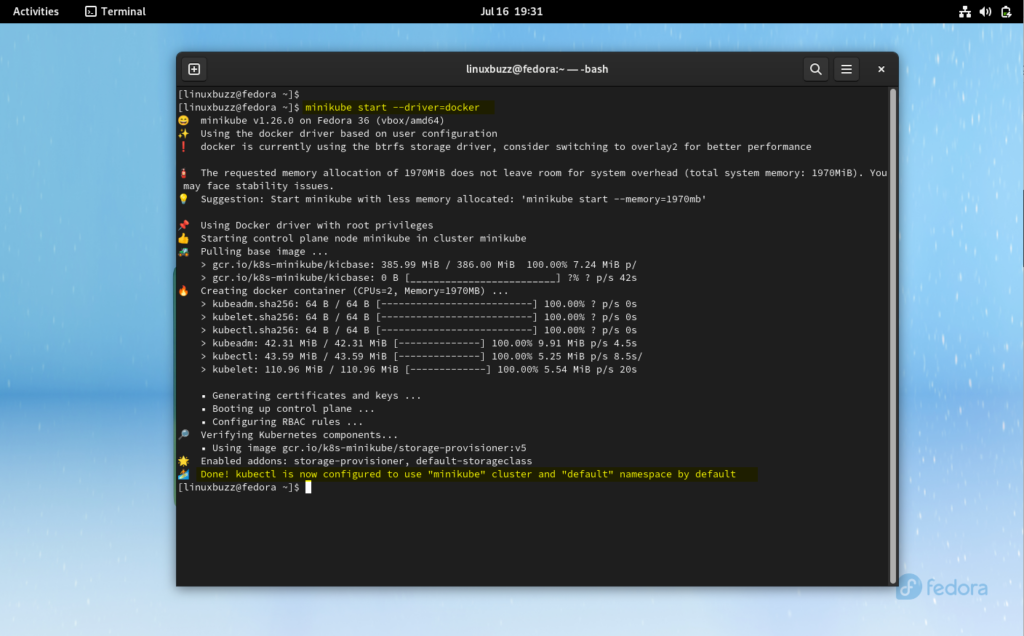 Perfect, above output confirms that minikube has been started successfully.
Execute following commands to view kubernetes cluster information,
$ kubectl cluster-info
$ kubectl get nodes
$ kubectl get pods -n kube-system
Output of above command,

Step 5) Test Kubernetes Installation
To test Kubernetes installation, we will deploy a sample application. Run beneath kubectl command,
$ kubectl create deployment sample-app --image=k8s.gcr.io/echoserver:1.4
Expose the deployment with type NodePort,
$ kubectl expose deployment sample-app --type=NodePort --port=8080
Verify deployment status,
$ kubectl get deployment sample-app
$ kubectl get services sample-app
Output,

To access application, type following minikube command,
$ minikube service sample-app
It will open the application in the web browser automatically.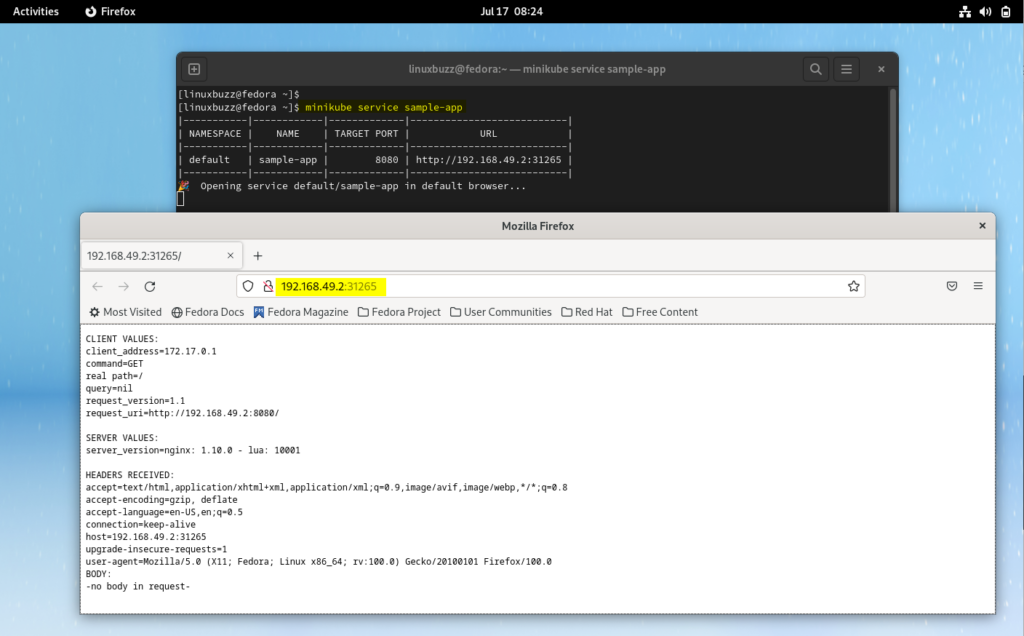 Great, above confirms that sample-app deployment is working fine. To access Kubernetes dashboard, run beneath minikube command,
$ minikube dashboard
It will automatically start Kubernetes dashboard in the web browser.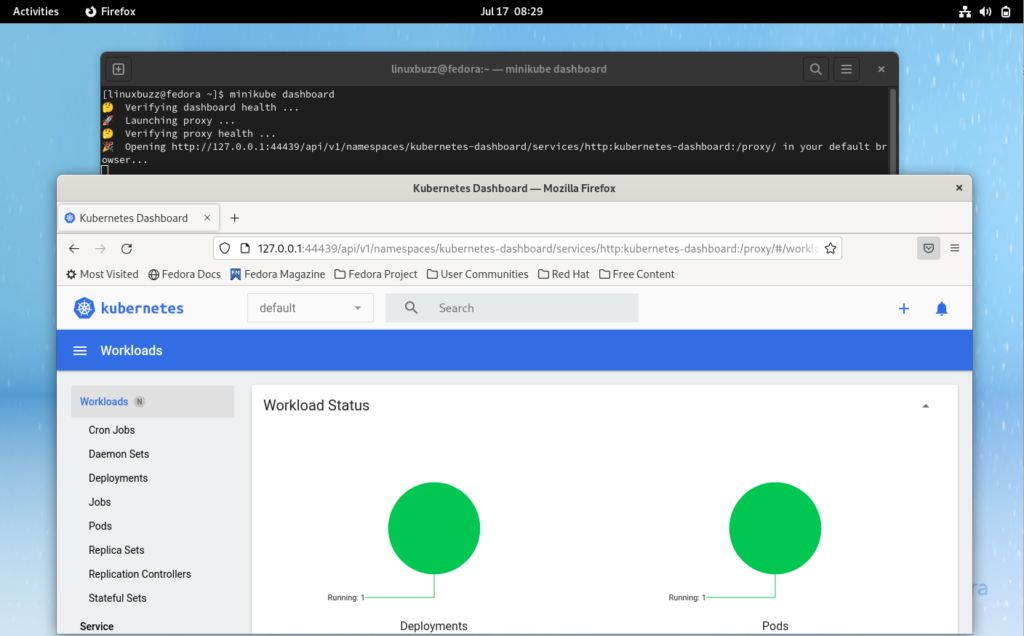 Step 6) Manage Minikube Cluster
To stop and start minikube cluster, run
$ minikube stop
$ minikube start
To delete the cluster, run
$ minikube delete --all
Increase memory limit of minikube, run
$ minikube config set memory 16384
$ minikube stop
$ minikube start
That's all from this guide, I hope these steps help you to setup minikube cluster smoothly on your Fedora Linux. Your feedback and queries are most welcome.
Read Also: How to Install VirtualBox on Fedora 36